iQ's Digital Branch works best with: Chrome, Firefox, Safari.
It does not work with: Internet Explorer.
Please also make sure you have disabled any pop-up blockers as those will limit your ability to use some Digital Branch functions.
Username: Between 8-20 characters, letter and numbers. No special characters are allowed.

Password: Minimum length is 8 characters, must contain at least one lowercase letter, one uppercase letter, one number, and special character.
After you've logged in for the first time, you may update your username and/or password by visiting the Security tab within the Settings menu, located in the drop-down next to your existing username. There, you'll be able to update your username and/or password as well as manage multi-factor authentication options.
If you see an unfamiliar phone number listed when logging in for the first time, please verify your username is correct. If that does not resolve the issue, please contact our Member Contact Center.
FICO scores are a three-digit number based on information in your credit reports. In other words, it's a summary of your credit scores from the three major credit bureaus and help lenders like iQ make decisions about how much money you can borrow and what interest rate you qualify for. You can influence these scores by paying bills on time, not carrying too much debt, and making smart credit choices.

Because we want to help you make good financial decisions and keep on track with your goals, our Digital Branch provides personalized FICO scores that are updated quarterly.
It's easy to transfer money between iQ accounts. Visit our Making Transfers How-to Guide for step-by-step instructions.

Transfers between your accounts

During the conversion to our new Digital Branch all existing transfers between accounts you are on will transfer automatically. You will not need to re-set up these transfers.

If you want to set up new transfers between your own accounts, or accounts your uniQue identifier is attached to (for example, you want to transfer money between your primary checking account and your child's saving account on which you are also a joint member), you simply visit the Transfers widget and select the "Classic" tab. On the 'To Account' drop-down, select which account you would like the transfer to go to. You can than set the amount, date and frequency of the transfer.

Transfers to or from other iQ members

You WILL need to set up or re-set up any transfers between your account and other iQ members. These will not convert over to online banking in the new Digital Branch. For example, maybe you transfer money from your checking account to a babysitter's checking account weekly. To re-set up this automatic or manual transfer, you will need that individual's iQ member number and the four-digit subaccount identification number. (ex: 0080 for their checking account or 0000 for their savings) An email will be sent to the other member to notify them of the connection.
You can pay almost any company or individual in the U.S. You can pay a company that sends you a bill, like the phone company, or a person or company you owe money to but don't necessarily receive a bill from, like your lawn mowing service. Although all payments are set up within Bill Pay, the payment can be made electronically or via a paper check if your biller isn't set up for online payments.
You can also:
Set up automatic payments for recurring bills — like rent or cable TV.
Make one-time payments for bills that differ each month — like the phone or utility bill.
If you have specific question about Bill Pay, you can contact iQ Member Contact Center or our Bill Pay vendor directly at 866.809.9497.
All of your Bill Pay history is available in the Digital Branch but you'll view history from prior to March 11, 2020, in a different place than history moving forward. To view your history prior to March 11, you will need to navigate to the payments tab, then "history", then "view more", then "display transactions", then "history prior to 3/11/20".

For service on any payments processed on or prior to March 10, 2020, please contact our previous vendor at 844.699.1616.
Electronic bills (eBills) are online versions of paper bills that you receive, view, and pay through Bill Pay in the Digital Branch. The eBill arrives into your Bill Pay account much like a paper bill would arrive in your physical mailbox although the format may be different. You can print eBills for your records and set reminders for yourself to pay the eBill when payment is due or set up automatic payments.
To set up a transfer to another iQ member, you will need the following info:
Member's last name
The member number (6- or 7-digit)
Share or Loan ID
Click the Classic Transfer tab, then "Transfer to another iQ Credit Union member." After entering the member info for the destination account, you may save the account for later by checking "Save Account for Future Use." Once it is saved, you will see it in the "To Accounts" for both Quick Transfers and Classic Transfers with the shared account symbol .
Quick Transfer is a convenient tool to help with processing immediate, one-time transfers. If you need to schedule a recurring transfer, schedule a transfer for a future date, or include a memo with your transfer, please use Classic Transfer.
You can add an account at another bank or credit union to your transfer list by heading to Classic Transfer and clicking "Add an external account." A pop-up will ask you for the account and routing number and will also require a nickname to label the account in your transfer list. After the account is added it will need to be verified.
Once the account is added and confirmed, you will see it appear in both Quick and Classic transfers. You will be able to both withdraw from an iQ account to the external account and deposit from the external account into your iQ account. See the How-to Guide on transfers for step-by-step instructions.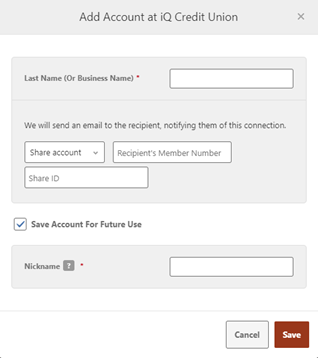 All business account members will need to know your TIN/EIN and your member number in order to sign in for the first time. If you don't have your member number, please contact us at 360.695.3441.
In order to register as a business member, you will be required to provide your:
Account/member number
Tax ID
You will also need to provide two additional pieces of verification from several options provided.
You will be prompted for this information when you register for the first time. Keep in mind that the first person to register the account becomes the master user and then has authority to set up roles and grant new users.
Download and Install Device Control
Click Deposit in the top left corner.
The Terms of Service page appears. Scroll to the bottom of the page and click Accept.
Getting Started page appears. Click Download Device Control.
The Device Control application downloads. Double-click the completely downloaded file to begin running the Device Control installer.
Click install
Once installed, the Device Control application launches and appears in the application tray located in the lower-right corner of your screen.
Download and Install Scanner Drivers


Click the Select Manufacturer drop-down arrow to choose the appropriate scanner manufacturer.
Click the Supported Models drop-down arrow to choose the appropriate scanner model.
Click install.
The Add/Remove Devices window appears. Choose the scanner you wish to add, and then click Install.
The Install Wizard appears. Disconnect the scanner's USB or power cable from your computer.
Click Next when prompted by the Install Wizard to download and install the scanner driver.
The Install Wizard displays the Install Done prompt. Click Next to continue.
After the Install Wizard has completed, connect the scanner to your computer, and then click Finish. The scanner is now installed.


Scanner Models Supported

• I:Deal®
•Panini®
• My Vision X™
• Vision X™
• Digital Check®
• CX30
• TS230
• TS240
Canon®
• CR-L1
• CR-50
• CR-80
• CR-120
• CR-150
• CR-135i
• CR-190i
• CR-25
• CR-55
• CR-180
• Epson®
• CaptureOne™ TMS 1000


For PDF instructions on how to setup Ensenta RDC Desktop Scanners click "download".